Horizons' Fall Getaways
horizons' Fall Getaway, Oct. 23-25
Get Away, Then let us take care of the rest!
Located just 2 hours from Washington DC and Richmond, Camp Horizons is the perfect weekend getaway. Join us for the upcoming Horizons' Fall Getaway, taking place Friday October 23rd – Sunday October 25th. Come enjoy the beauty of The Shenandoah Valley in the fall as you reconnect with nature and your family and friends. The Horizons' Fall Getaway includes a flexible activity schedule, fresh cooked meals, and an individual cabin rental. You can also elevate your stay with a cabin upgrade or add-on equestrian programs! Spaces are limited, and cabin upgrades are provided on a first come, first serve basis.
Dates and Rates
A day full of activities, your cabin rental, and fresh meals are all included in your reservation! You can also customize and enhance your getaway with equestrian add-on activities or a cabin upgrade at additional costs.
Join us: Friday October 23rd – Sunday October 25th (deadline to register is Friday, October 16th)
For current Camp Horizons families: 
We are offering a Refer a Family incentive! If you refer a family and they join a Horizons' Fall Getaway, your family will receive a $50 credit to Swap Shop (1 credit maximum). Additionally, if the family you refer signs up for the 2021 summer, they are eligible for our returning camper discount.
Event (Fall Getaway) registration is separate from Summer Camp registration. You can create a new profile by clicking "Register now!"
---
Activities + Add-ons
Horizons' Fall Getaway offers a schedule with a mix of our most popular activities and special seasonal choices.  Activity periods rotate throughout the day, so you'll have an opportunity to try everything at least once. Activities will be limited to ~16 people per activity period to allow for social distancing and individual equipment use. We wrap up the day with a fun and unique Evening Program, leaving you free after that for a village campfire or stargazing.
optional Add-on Activities:
Horseback: $40.00/person

Ring Ride (ages 5-8)
Trail Ride (ages 9+)
Not interested in our staffed activities? Feel free to check out sports equipment to use around camp's common areas.
Additionally, you're not required to stay on camp for your whole stay. If you would like to go into town to explore, drive along Skyline, or go hiking at Fridley's Gap (a nearby hiking trail and watering hole), you are more than welcome to! We ask that if you plan to miss any of the meals to please let a director know beforehand so we can minimize our food waste. We will provide you with a resource of maps and trails of the area, restaurants downtown, and local fun attractions upon arrival.
---
Lodging + Cabin Upgrades
Unplug and reconnect with nature as you getaway to your very own cabin in the woods! The Horizons' Fall Getaway will use cabins in our Starlight village, and each group will be housed in an individual cabin complete with restroom and shower. Starlight features bunk style lodging in the cabins and a communal campfire circle for the village. Groups are expected to bring their own bed and bath linens. Standard cabin rentals are assigned, and we will not be honoring cabin requests.
Optional Cabin Upgrades:
All cabin upgrades include bed and bath linens. Spaces are limited and provided on a first come first serve bases.
Starlight 9/10: Check out our Starlight 9 and 10 efficiency cabins where parents can enjoy a queen sized bed and the kiddos get two twin beds. These cabins are climate controlled, carpeted, sport a private bathroom and include bed and bath linens for an additional $75 for the first person and $30 for each additional person. Only 2 families can snag this awesome deal per week! Max 4 people.
Mountain Valley: Looking for more comforts of home? Enjoy our premier Mountain Valley Deluxe Cabin upgrade. Cabins lodge families of 2-4 in a relaxing climate controlled environment. All bed and bath linens are included along with in-cabin television  for and additional $100.00 first person and $40.00 for each additional person. Max 4 people.
Director's Cabin: Or is living large like our Directors more your style? Try out our stand-alone Director's Cabin for a unique family stay. This cabin features a full kitchen, living room, bathroom, 2 bedrooms with full beds and loft with 2 twin beds, all linens included. Enjoy this upgrade at a rate of $120.00 first person and $40.00 for each additional person. Only one family will get this lucky upgrade, so you'll need to be fast to lock in this gem. Max 6 people.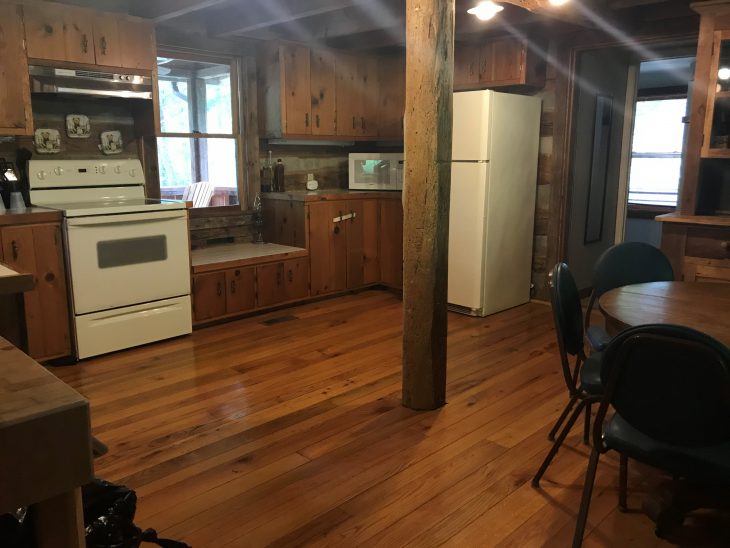 Otis Cabin: The Otis Cabin offers a rustic getaway from the real world. Complete with one full bed and a loft sporting three twin beds, Otis is the perfect cozy mountain getaway for a family looking to join our Fall Getaways. Otis offers the convenience of a full kitchen, bathroom, and living room along with a small patio area with campfire ring. This space also comes with all bed and bath linens included. Like the Director's Cabin, only one family can enjoy this stay at a rate of $120 for the first person and $40 for all additional people. Max 5 people.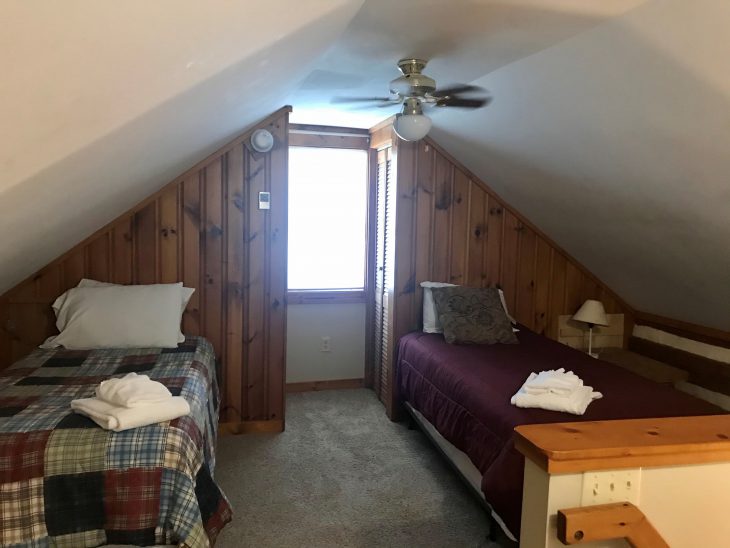 ---
Food + Beverage
A getaway is meant to be stress free—let us handle the cooking! Chef Rob and the fantastic dining team will be serving seasonal versions of your camp favorites. You can see the full menu by day below. If you have any dietary restrictions or food allergies, please make sure they are noted on your registration form. Most needs can be met, please call us if you have any specific questions!
To ensure the safety of our guests we've implemented some changes to our dining policies for the Fall Getaways:
While we normally eat buffet style, all meals will be done family style to minimize movement around in the dining halls. Your group will be assigned a table of your own for the duration of your stay
Tables at the dining hall will be spread out to ensure proper distancing
All of our dining staff will wear masks or face shields and gloves while preparing and serving food
Horizons' Fall Getaway Menu
Families are permitted to bring their own food and drinks. The Swap Shop will also be stocked with more snack items than normal, so if you're missing anything we've got you covered. As you are packing for your stay we do ask that you keep a few things in mind:
As we are a nut-aware camp, please do not bring any food that contains nuts.
Because of our location in the woods, we recommend that any food you bring stays in a plastic container.
Alcohol is allowed; however, we ask that beverages are not in any glass containers. Please be conscious of alcohol use. Alcohol is not permitted in activity areas
---
FAQ
1. Are pets allowed?
We ask that you leave your pets at home. The farm and barn are filled with animals excited to see you!
2. Is smoking allowed?
Camp Horizons is a tobacco free facility. We ask that you do not smoke or vape on the property
3. Will I have cell phone service? Is there access to Wi-Fi?
We understand that even during a getaway there is a need to work or stay in touch with the world outside of camp. Most cell phones carriers will have service at camp–enough to text and call. We also offer Wi-Fi in our Main Dining Hall and Dew Drop Inn (located in Western Village/central camp).
4. What do we need to bring?
View the Horizons' Fall Getaway Packing List
You are also encouraged to bring your own bikes and fishing poles if you are interested in using our trails or fishing at the lake
5. Will Swap Shop be open?
Yes! We will have a staff member in Swap Shop to buy merchandise and snacks each day with extended hours throughout the day. Be sure to check out our 2020 apparel!
We will have movie concessions, S'mores packs, bug spray, sunscreen, and farm produce available to purchase
The Swap Shop also has board games, puzzles, sporting equipment, and yard games available for checkout at no additional cost. Items will be sanitized after each use
6. What kind of safety and cleaning procedures will you all be doing?
We ask that you all do a health screen before you arrive for your stay. We will also do a temperature check on every guest during check-in. If anyone has a temperature of 100.4 or higher, we will ask that you return home. A full refund will be provided
All common areas will be cleaned on a rotation multiple times a day. We use FDA approved cleaners, and all of our housekeeping staff will wear gloves and masks while cleaning. Our housekeeping staff will not enter your cabins during your stay.
We have installed additional sinks and hand sanitizer stations around camp for easy access
All of our staff receive daily temperature checks before beginning work and anyone with a temperature over 100.4 will be immediately sent home
All of our staff will be in masks during activities that require staffing.
If you want to wear a mask you are more than welcome to. However, we are not requiring our guests to wear masks
We've structured activities and meals to allow for social distancing. We ask that you practice social distancing with other families, however the onus is on you all
There is a waiver that we are requiring all participants to sign upon registration, please make sure to read through it and contact us with any questions