Spread Your Wings!
Journey is designed to encourage campers ages 9-11 to spread their wings, discover new talents, and meet new friends. Journey campers are ready for new challenges and additional decision-making opportunities. They are beginning to enjoy socializing and making peer connections. The Journey camper to staff supervision ratio ensures individual attention and appropriate levels of supervision while still allowing campers to practice self-expression, discover new interests, and develop leadership skills.
Daily Schedule
Journey Brochure
Activities
Aquatics
Instructional Swim
Beginner & Intermediate. Practice your strokes and turn into a fish!
Water Aerobics
Like fun in the water AND fitness?
Water Games
Enjoy classic pool games!
Water Polo
Catch and throw with one hand and become a swimming master!
Outdoors
Archery
Be like Robin Hood and shoot a perfect arrow!
Climbing Elements
Learn the skills of climbing on our ropes course and climbing wall!
High Ropes Challenge
A camp favorite, traverse our cable bridges while being 30 to 40 feet up in the air! Finish with a Zip Line to the ground.
Kayaking
Learn the skills of kayaking on Lake Phillipa!
Nature Ed
Learn your way around the forest with our knowledgeable staff!
Outdoor Living Skills
Interested in becoming the next bear Grylls? Learn about fire building, shelter building, and more with our Outdoor Living Skills class!
Performing Arts
Dance
Learn the fundamentals of dancing and perform your routine at the Talent Show!
Drama
Become a world class actor with Drama games and present your skit at the Talent Show!
Improv
Try your hand at comedy in this off the cuff activity.
Singing/Vocals
Warm up those pipes and sing!
Science & Technology
Drones
Learn basic coding, build obstacle courses, and practice maneuvering your drone around camp!
Horizons Farm & Garden
Take care of and learn about our farm animals and garden!
Movie Making
Be the next Oscar winner! Make a movie with your friends and become a star!
Rocketry
Learn to build and shoot off rockets with your friends!
Wacky Lab
Enjoy a new science experiment everyday and become a mad scientist!
Sports
Basketball
Become the next LeBron James or Britteny Griner!
Beach Volleyball
Bump, Set, Spike!!
Frisbee Sports
Learn how to throw and catch frisbees as well as the rules for the fast paced games of Frisbee Golf and Ultimate Frisbee.
Net Sports
Practice your skills on the tennis and badminton courts!
Soccer
Become the next FIFA World Cup player!
Team Sports
Enjoy a new sport every day!
Yoga
Relax and enjoy soothing music while you learn some yoga moves!
Visual Arts
Arts & Crafts
Painting, Drawing, Tie-Dye, Crafting, and More!
Clay Work
Create a variety of art from plates to decorative pieces, mugs, and even jewelry.
Digital Photography
Use digital cameras and learn Photoshop tools to make great art!
Knitting and Weaving
Refine your knitting skills while also learning how versatile weaving is. You can take home your creations and share your new skills.
Sketching and Painting
Are you ready to become the next Pablo Picasso? How about Michelangelo? Or maybe you just want to refine your stick-person skills. We cover it all in our pencil to paintbrush class.
Stage Makeup
Transform through the application of stage makeup!
Camp Extras for Journey Campers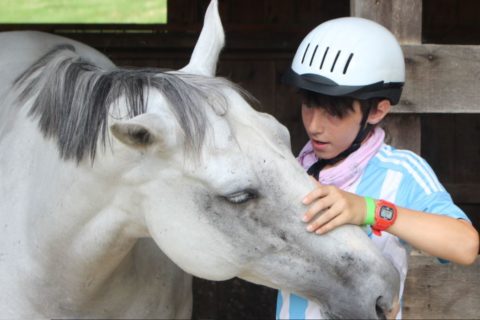 Horseback Lessons
$150 for 1 week, 5 hours
Camp Horizons owns its own horses and provides English horseback riding lessons. Campers will learn basic horse care and riding skills, including both ring and trail riding. All necessary equipment — helmets and boots — are provided. Campers must wear long pants and closed-toe shoes with heels while riding.