Spread Your Wings!
Experience the magic of a traditional sleep-away camp at Camp Horizons in Virginia. Our Journey program is specifically geared for 9, 10, and 11-year-olds who want to embark on an unforgettable summer adventure.
Journey is designed to encourage preteen campers to spread their wings, discover new talents, and meet new friends. Journey campers are ready for new challenges and additional decision-making opportunities. They are beginning to enjoy socializing and making peer connections.
* In order to be offered, classes require an enrollment minimum of four campers. Enrollment numbers will vary from session to session.
The Journey camper to staff supervision ratio ensures individual attention and appropriate levels of supervision while still allowing campers to practice self-expression, discover new interests, and develop leadership skills.
Daily Schedule
Journey Brochure
Activities
Journey campers can fill their summer with unforgettable activities, from things they know and love to a wide range of new skills. At this age, kids begin forming their identity and exploring passions that will follow them for the rest of their lives. Our activities help them discover what makes them tick. Here are some of the incredible adventures we offer at Camp Horizons:
Aquatics
Summer and fun in the water go hand in hand. Journey campers can have one water-filled adventure after another, from playing classic games to perfecting their backstroke.
Outdoors
Camp gives kids a chance to experience nature in a newfound way. Our 300-acre property is the perfect environment to explore the wonders of the natural world.
Performing Arts
It's time to take center stage. Whether your child was born to perform or has a bit of stage fright, our performing arts class will give them a chance to shine in a supportive setting where fellow campers and counselors are their biggest fans.
Science and Technology
These diverse classes give campers a variety of endeavors to choose from, including caring for animals to experimenting with slime.
Sports
Learning the fundamentals of teamwork and good sportsmanship are far more important than winning. Counselors will guide children through a variety of sports experiences, such as basketball, volleyball, soccer, frisbee, and more.
Visual Arts
When it comes to creativity, the sky is the limit. Kids can dive into a variety of arts and crafts, from learning the basics of drawing to making their own tie-dye creation.
Camp Extras for Journey Campers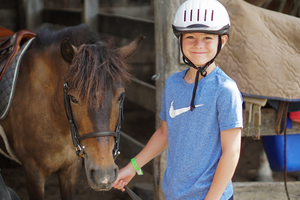 Horseback Lessons
$175 for 1 week, 5 hours
Camp Horizons owns its own horses and provides English horseback riding lessons. Campers will learn basic horse care and riding skills, including both ring and trail riding. All necessary equipment — helmets and boots — are provided. Campers must wear long pants and closed-toe shoes with heels while riding.
Trail Ride
$50, 1 hour
See Camp from a totally different perspective on a 1-hour scenic trail ride through Camp Horizons' property. Riding boots and helmets available. Saddle up your horse and giddy up!
Benefits of Overnight Camp for 9- to 11-Year-Olds
Whether this is your child's first sleep-away camp experience or not, you'll find that our Journey program offers loads of incredible benefits:
Beauty of nature: Explore the great outdoors at our lovely 300-acre property nestled in Virginia's Shenandoah Valley.
Friendly counselors: Our counselors demonstrate an incredible balance of appropriate supervision while still giving campers the freedom to explore and discover.
Friendship: Sleep-away camp for 9, 10, and 11-year-olds is the perfect place to make lifelong friendships with fellow campers who become your camp family.
Diverse cultures: We embrace diversity, welcoming campers and staff from all over the world.
Gain independence: During these formative years, children should have ample opportunities to try new things. Gaining independence will give them a boost of confidence and help them discover what makes them unique.
Learn More About Our Journey Program
Send your 9- through 11-year-old on an unforgettable journey of discovery and fun at Camp Horizons. If you're looking for a summer camp for kids near you, our location in northern Virginia is a convenient option for families throughout the Northeast. Contact us today to learn more or schedule a tour.